See what past clients are saying about Chris Eckert
---
Chris Rocco
808 Laurel Ave. #107, San Mateo SOLD for $120K over asking FOR $620K
As the out-of-state executor tasked with settling my late uncle's estate, I shuttered when I thought about making sure I performed up to the beneficiaries expectations when "selling his San Mateo condo" came to mind.
Chris and his staff took all anxiety out of the process. From staging an open house to establishing an "offer process", to providing for absentee closing, the process was smooth, professional and involved me only to the level I wanted. Most important, a month after the closing, I knew I made the right decision when I selected Chris and his staff as my realtor team!
CHRIS ROCCO, Executor
February 2015


---
THREE-Peat Acclaim in Hayward Park
www.youtube.com/watch

"If you are looking for a realtor, I recommend Chris Eckert! I completely trust him and his team. He sold three of my homes on Palm Avenue in Hayward Park [San Mateo]". - Kristina Outzen




My Happy Seller Testimonial of 1300 Palm Ave in San Mateo (Hayward Park)!

www.1300Palm.com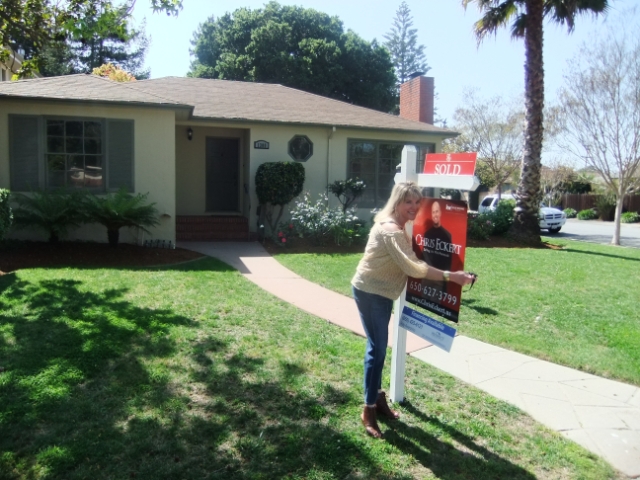 ---
Gary and Swee, My Happy Seller's of 143 11th Ave. in San Mateo (Hayward Park)
"Chris
Eckert
is an expert in real esate and he knows and understands the detailed requirements and regulations that need to be followed. We always look for his advice and we are glad that we have sold our house smoothly. He is extremely familiar with our neighborhood and we enjoyed working with him. We would highly recommend
Chris

Eckert

"

.
www.143-11thAve.com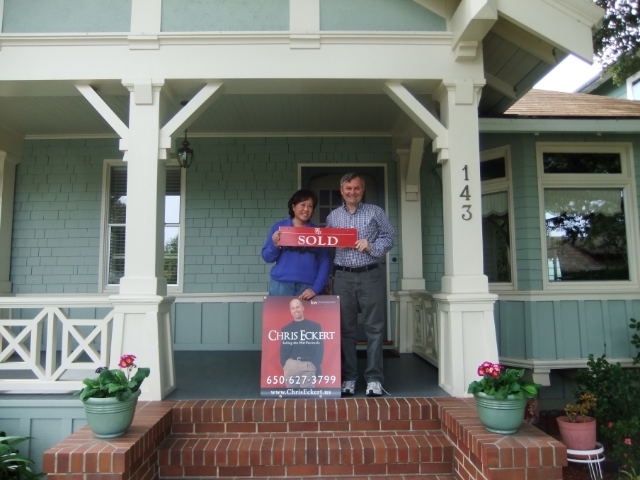 ---
Emilie Righetti - 2338 S Norfolk & Condo for Daughter

I would like to say a few words about Chris Eckert and his team. We have never worked with such a professional team. They made what was a very difficult time for our family seem very seamless. They not only sold our house, but found a wonderful place for our daughter. Chris was always there to answer questions and worked very hard to stick to our timeline. His Assistant, Michele, was the greatest. Got us set up on the computer so we didn't have to travel long distance just to sign paperwork. They just made every part of the sale of our home and the purchase of our daughters place so easy. We would recommend Chris and his team to our friends and family anytime!!! He listens to what you want and keeps you and your wishes in mind throughout the sale; I found that very refreshing. We ended up getting more for our home, and feel we gained a friend in the process. Great People.

Emile Righetti

---
Dawn K
We worked with Chris this fall when we bought a home in San Mateo. He was an absolute pleasure to work with. He was thorough, incredibly hard working, and detail oriented. He was available all hours of the day to assist in the search, bidding and buying process. His knowledge of the local market (San Mateo and Burlingame in my case) was outstanding. Chris also maintained a fair and level headed approach during a somewhat stressful and emotional process. Most importantly, because of Chris, we found our dream home in our dream neighborhood! He really made it happen for us from start to finish.
- Dawn K.
12/19/12, Originally Posted on Yelp.com

---
Todd S
I consider Chris Eckert the hardest working agent on the planet. We recently had him represent us in the sale of our home in Hayward Park. Chris was helpful in setting expectations about a sale price. He was organized and knew the drill with respect to punch list of items that were needed to prepare the home. And most importantly, he was an expert at navigating the offer process and maximizing our outcome. Chris is a good listener, and a true professional.

- Todd S.
12/19/12
Orinally Posted on Yelp.com
---
Glenn K.
Chris represented us on the recent sale of a home in San Mateo.
I was pleased with both his management of the process and the end result.
He helped us navigate through the cleanup and repair, staging, photos, pricing, open house, reviewing offers, closing, etc.
We ended up getting multiple offers and it sold quickly.
I was positively impressed by his professionalism,
and a couple of others realtors mentioned to me: "oh you're using Chris, you will be well taken care of."
I would be happy to use Chris again.

- Glenn K.
12/15/12
Originally Posted on Yelp.com
---
Nancy C.
Chris is a fantastic real estate agent and has proved to be an ongoing source of information about our new neighborhood. We began looking for a home in San Mateo earlier this year just as the market moved from cool to hot. We met Chris at an open house and began talking to him about our goals and he was immediately responsive and helpful. He helped us narrow down our criteria and begin a serious search of the market. Inventory was very low but Chris was prepared to go door to door tyring to find an interested seller. Both my husband and I found his dedication and perserverence very impressive. We did locate our dream home - along with a larger group of other bidders. Chris helped guide us through the bidding process and gave us a very realistic view as to what we could expect. We were able to buy the house and we still call Chris concerning what is happening in the area and the best people for various home improvement projects. Chris really knows his market and is a consumate professional. If we ever buy or sell another home Chris will get our business hands down and we would definitely refer him to friends and family.

- Nancy C.
12/13/12
Originally Posted on Yelp.com
---
Roger H.
Chris Eckert is one of the most informed, professional, and dedicated realtors I know on the San Francisco Peninsula. The San Mateo area is his area of expertise, but it is his knowledge of the real estate process and the local community that proves invaluable to his clients: making a deal happen when it might very well fall apart with a less experienced realtor. I've know Chris 7+ years now as a realtor. This guy is not a "flash in the pan." He's the "real deal" and understands the market, buyers, and sellers.
- Roger H.
12/12/12
Originally Posted on Yelp.com
---
Prudence T.
This summer Chris sold our home in San Mateo far exceeding our expectations in many ways. First, he was able to take us as a client and sell our property within a very tight time frame of one month because we already had selected another house that was on the market, but couldn't make an offer until ours sold. His advice for the asking price was not only based on recently sold homes in the neighborhood, but his outstanding knowledge of the real estate market in San Mateo and he was spot on! Second, in order to achieve the best value for our property, he brought in a professional stager. Third, his skillful use of the internet with selected professional photographs that highlighted our home and his networking with other realtors was most impressive and reached a large audience. Fourth, his timing of the single open house brought an estimated two hundred house hunters resulting in multiple offers above the asking price. We say it again--he was spot on! We were able to purchase our ocean view dream home because of his expert guidance. His work ethic is above reproach. He's personable, professional, knowledgeable, and skillful. He was highly motivated to please us keeping us well informed on the details and progress of the sale. Needless to say, we highly recommend Chris to other home sellers seeking the best price for their home.
- Prudence T.
12/12/12
Originally Posted on Yelp.com
---
Tania F.
Chris Eckert is the ultimate professional. He recently evaluated my home during the process of my divorce to obtain a fair market value on the property. This has been a difficult time and event to go thru during my life, even the smallest tasks can seem difficult to get through. Due to Chris's prompt response and thorough evaluation this process was smooth and painless. He is extremely organized, knowledgeable and reliable.
- Tania F.
12/3/12
Originally Posted on Yelp.com
---
Barbara M.
Chris Eckert is the ultimate professional. He is extremely organized, detail oriented, knowledgeable and dedicated. His dedication is not only in obtaining the best possible price but also in making the process as simply as possible to his client. I recently sold a piece of rental property which needed some work prior to putting it on the market. It also had tenants still in the home which always makes the situation more difficult. Chris's experience and expertise made it possible to know what upgrade/improvements were necessary to get the best return on the investment. Chris managed all the work that had to be done. He kept me appraised of all the work progress and of the sale every step of the way. Chris made the entire process easy and painless for me. I recommend Chris Eckert to anyone looking for a realtor.....he is top notch. A few key words to describe Chris: An Expert, Dedicated, Flexible, Organized, Detailed and Professional.
- Barbara M.
12/3/12
Originally Posted on Yelp.com
---
Caren D.
Chris is an amazing Realtor!! I have known Chris for over five years now. Upon purchasing our second home and the sale of our last residence, there was no question Chris was the guy. The test was the sale of our other home, which had alot of complications. Chris was able to deal with the issues with ease. We were amazed at his dedication and loyalty. He puts his heart and soul into every transaction he makes. Never leaving any stone unturned. He went above and beyond just the sale, helping us out with any way he could, to make the process easier. He is committed to his clients, not the sale! His ethics are above and beyond any Realtor I have used or come across. If your in the market he's the guy to use.
- Caren D.
12/3/12
Originally Posted on Yelp.com
---
Jan D.
I happened to see Chris Eckert's name on a "For Sale" sign in my neighborhood and decided to call him because I was ready to sell my home and move out of state. What a lucky phone call that was! Chris was so professional, knowledgeable and helpful. He lined up his stager who was great to work with, and she turned my older home into a show piece. We had one open house, and the "Sold" sign went up the next day. Chris did a fantastic job and I was very grateful. Then, going way beyond what one expects from a realtor, he helped me land a computer job in Oregon where I now live. Chris is the best. He really cares about his clients and goes out of his way to do the very best for them. I would highly recommend him to anyone who wants an honest, dedicated, hard-working professional realtor who will get the job done to his client's satisfaction.
- Jan D.
12/2/12
Originally Posted on Yelp.com
---
Susanne B.
I have been wanting to write a review on Chris for some time now. Chris was the most dedicated agent I have ever encountered. I think all would agree that my home became somewhat of a nightmare to market. There were additions made to the home before my initial purchase without permits. I thought that would be no big deal as long as I disclosed that the changes were made without permits when I listed it 10 years later. Well, somehow someone viewing the home for sale called the city to come inspect. What followed from that became a long, protracted and difficult four months. The house had to be taken off the market and basically revamped to meet the requirements of the City of San Mateo and get permits for the prior work. Throughout the process Chris was there for me every step of the way including meeting with city personnel when I couldn't be there, making numerous follow-up phone calls and continually researching the options I had available to me -- basically holding my hand through the whole long drawn out procedure. In addition, while staging my home, Chris felt the best way to show the home was to move my computer work station out of the kitchen into a back bedroom. I was a little overwhelmed to have to move over what seemed a very complex myriad of wires and cables and equipment, not to mention an oversized, extremely heavy desk to another area in the house. Chris personally took care of this for me while I was at work one day. He personally and painstakingly labeled each cable wire and cord so as to reinstall everything back correctly in the new location. It was such a relief when I returned home to find everything perfect and I didn't have to stress about it one little bit. In addition, during the transaction while house was in escrow, a cracked window became an issue. Chris went out and purchased a new window and had it installed and never said another thing about it. Chris was extremely dedicated to helping me every step of the way in getting my house sold. He is the epitomy of professionalism and I truly don't believe my house ever would have been sold without his help.
- Susanne B.
12/2/12
Originally Posted on Yelp.com
---
Kerry R.
I have worked with Chris for many years. He is a consummate professional. I am always impressed with how level headed he his regardless of how difficult a client can be. He listens very carefully to his clients and is very honest and upfront about the local market and potential pricing of a home.
We have worked on many renovations projects and he is very skilled at establishing a comfortable budget with the homeowner, prioritizing the budget into projects that will have the greatest return of investment and creating a timeline for all the vendors working on the project. His projects always come in on time and on budget. He surrounds himself with a team that has worked together many times and works well together. Everyone he brings into a project has a great work ethic and delivers what they promise.
I have never heard from any of my clients a had work about Chris. Almost all of his homes sell very quickly.
I honestly believe in what I have wrote. I have no agenda. Chris is a great Realtor and has built a huge reputation in the local community.
- Kerry R.
12/9/12
Originally Posted on Yelp.com
---
Dan G.
We had the pleasure of working with Chris earlier this year as he helped us every step of the way in the purchase of our new home. Real estate transactions are quite complex and can be worrisome; we know very well as we have done several real estate transactions in the past.

Chris easily separated himself from the rest with his professionalism, knowledge of the local market, and his genuine attention to detail. But what really stood out above and beyond everything was the respect and courtesy in which he treated us with. I will forever be grateful to Chris for representing us well when the seller came up short on the deliverables of the contract. Chris stood up for us and ensured that the contract was fulfilled.

If you are looking for a real estate agent that will put your best interest at heart, please consider Chris Eckert from Keller Williams.

- Dan G.
12/17/12
Originally Posted on Yelp.com
---
Ray A
I have worked with Chris Eckert for five years and have always had a great experience. This market can get very hectic, but Chris always seems to stay in control. He has helped many of my clients find homes, obtain comparable's(comps), whatever is needed to get the client what they need, and reach their goal, usually home ownership. I have and will continue to recommend Chris Eckert as a great local San Mateo area realtor.

- Ray A.
12/12/12
Originally Posted on Yelp.com
---
Emilie Righetti - 2338 S Norfolk & Condo for Daughter
---
Bill and Sandy
886 Wharfside Road, San Mateo
SOLD for $1,150,000 - $200K over asking and only 2 days on the market.

"You guys are the best!!! Everything was perfectly orchestrated! Feel free to use us as a reference any time. You and Chris are a dynamic sales team!"
Bill and Sandy